On January 18th, the joint mission trip of Youth Evangelical Fellowship Korea, Young Disciples, and Apostolos Mission Korea in Gyeongsang, which lasted for two nights and three days, was completed with the closing service at Busan Ephesus Church. Pastor Junghwan Yoon of the Ephesus Church in Busan delivered a closing service sermon on the theme of a lost Drachma parable.
"God must find what was lost. If we have lost hope, grace, and vision that He has given us in the past, let us remember the faith of God who calls us constantly and trust us until the end, and let us repent. And all that God has lost will be restored through our mission. The river of the Lord's living water will flow and overflow with our steps," he said.
Immediately after the service, the mission fellowships and the church leaders decided to unite and jointly shepherd the souls who were evangelized this time and prayed for them together. Later, the leaders evangelized both at local universities and downtown, close to the Ephesus Church.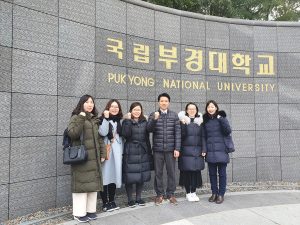 The leader of YEFK, Eunice Choi, shared the following comments:
"This time, I came to the mission trip by the grace of God. I was thankful all the time that I could join the precious gathering where the church, the missions fellowships, and our prayer team had gathered before and united with each other, even though I had done nothing but evangelism even after the preparation and arrival.
Through this circuit evangelism, I learned a lot about evangelism and prayer. And for the nationwide network that will be the ember of revival, for the whole region, for the souls of each land, I came to pray more earnestly and passionately.
In addition, we were all united in evangelism and gained a lot of comfort and strength, and it was a mission trip full of joy and hope because of the answers of precious souls like jewels. It is my hope that this year there will be abundant fruits of love by diligently walking, sharing, and uniting with the heart that I am obligated to love."